To view all homes in this area please click on this link: Celebration Homes For Sale
Town of Celebration
It is impossible not to have a good time in a place called Celebration.
Celebration is a master-planned community in Osceola County, Florida, located near Walt Disney World Resort and originally developed by The Walt Disney Company, the master of happy places. Celebration offers the best of small town America with a modern twist.
Celebration boasts charming homes, lush green parks and relaxing lakefront en route to a block of independently owned boutiques and gift shops. As you stroll through the quaint village, Celebration's close-knit, friendly community will welcome you warmly.
In Celebration, rows of homes organized into "villages" cluster around a compact downtown. You could in theory, walk to work. Celebration has a great school.
You could do all your shopping without driving and send your kids to a park down the street to play.
Celebration has diverse eateries, local favorites such as Columbia Restaurant, Celebration Town Tavern, Ari Sushi and Thai Thani.
You can browse through fancy clothes, toys, jewelry and other trinkets in Celebration boutiques. Women of all ages can find something they are looking for.
Let's not forget about our animal lovers who will love Woof Gang Bakery to pick up treats for their pets.
Children are sure to make a beeline to Once Upon a Time for fun clothing and accessories.
This community comes together to enjoy special events that delight adults and kids alike.
Three weekends a year, the Art & Wine Stroll transforms Celebration Town Center. With a glass of wine in hand, guests can browse watercolors, oil paintings, charcoal sketches, ceramics and more!
In April, auto enthusiast cruise to Celebration's Exotic Car Festival to ogle vintage vehicles, racecars and Hollywood movie cars, all lined up along the lakefront promenade.
Fourth of July Celebration has full fireworks by the lakeside, live music, activities for kids and an unforgettable tribute to our nation's veterans.
Despite year round warm weather, Celebration sees a white Christmas everyday of December during Celebration Town Centers Now Snowing Event. Listen to live music, take photos with Santa and ice skate while the "snow" falls.
This is the destination your soul has been waiting for!
To view all homes in this area please on this link: Celebration Homes For Sale
Check out this like for more in depth look at Celebration. http://www.celebration.fl.us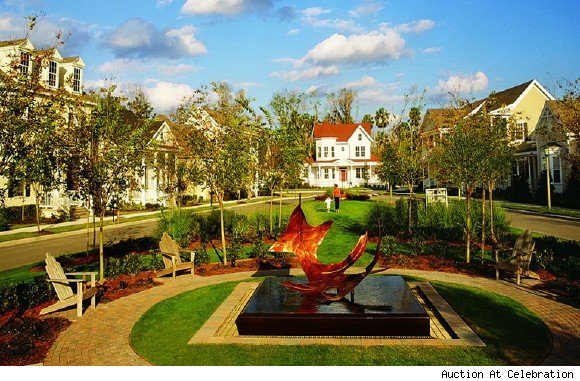 __________